What is fashion all about? What is style all about? And to find perfect fashion style according to your personality is pretty difficult. Fashion and style are two different things and are also similar in so many ways. Fashion is all about looks and image that are popular in particular time and period. On the other side style is more about expressing your individuality through clothes. And it doesn't have any expiration date. Fashion gives us the inspiration and ideas and style is what you make out of it. Style is as much about knowing about yourself as well as knowing what you want to show. If you are certain of this knowledge, other people's views don't really matter you. Creating your own personal style is the art of combining an outfit, or an image if you will, based on the various aspects of your personality and lifestyle, which involves your taste, interests and desires.
The main reason of fashion style is to feel and look good. Creating your unique fashion style which helps you achieve a sense of confidence and comfort how you put together an outfit.
The quote that defined style the best is one from Gore Vidal: "Style is knowing who you are, what you want to say, and not giving a damn."
Following are the tips and things through which you can find your own personal style.
Understand your body: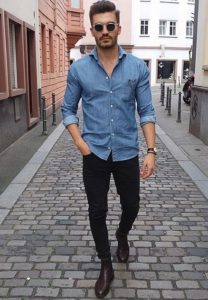 Find Confidence in yourself and your style and consider the persona you want to show to the world.. First thing you have to understand is your body type. What kind of body you have and what really works for you.  If you are good at understanding your body type and shape then you can easily buy right clothes according to your own fashion style.it takes a lot of trial and error to find your personal clothing style, so don't worry about making mistakes along the way. In fact, developing your personal fashion style is a journey not a destination. Experimenting and just having fun help you get to know yourself better.
Understand your personality:
How you can describe your personality? What really looks good on you? You have to understand your personality like how you want to show your style which reflects your personality. When you connect with your core fashion persona, your style will improve and you will look fabulous.
Which colors inspires you?
Colors give huge effect on your style and how you feel. You have to understand how certain colors make you feel. You have to start doing experiments by adding bits of colors through accessories and see how these make you feel.
When you look others wearing stylish clothes which you admire or like, try to get picture and paste it. After a while, you will see a pattern developing of the kind of styles that you like.
Wear something in which you feel you will look gorgeous and don't try too hard; it's much sexier when it appears effortless.