To look stylish and beautiful silver sterling jewelry is the best choice. Nowadays, mostly women prefer to wear sterling silver jewelry as it looks elegant and are trendy. Sterling silver is the brightest of all the precious metals. Mostly people find silver more attractive because they love the bright, shine look of jewelry produced in sterling silver and over the years the popularity and value of sterling silver has risen.
The silver jewelry is increasing its value day by day in terms of popularity around the jewelry industry. This reputation is withheld by two major factors like new designs that are making trend and secondly growing presence of silver jewelry wholesalers who offer exclusive jewelry at highly reasonable prices to retail traders for the sale.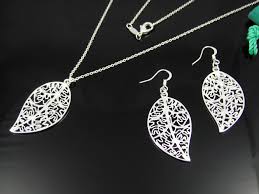 The metal silver is too soft to produce jewelry, so it is alloyed with copper to make it strong enough for jewelry casting. There are other alloys that can replace the copper in sterling silver. There are several brands that are presently using variety of alloy in silver, but they have failed to impress the industry as a whole. Some jewelers like these put new alloys in silver because they take longer time before tarnishing than copper alloys. This allows jewelers to keep silver prices in the display case for extended time periods without having to polish them. However, many jewelers simply do not want to pay a higher cost for fancier alloys that won't tarnish as fast as copper. They do not mind polishing their sterling silver jewelry more often because it costs them less to do so. The prices of sterling silver are lower than gold and platinum. How to buy sterling silver jewelry, there are certain qualities of the metal, such as luster and shine, which should be taken in consideration. And also put your attention on the details of the overall craftsmanship, the intricacy of designs, the weight of items and any marks, flaws or areas of tarnish.
One more tip for buying sterling silver jewelry one should pay attention towards the both what is trending and the value of material itself. When gold prices are running overly high prices, it is good time to buy silver, because it is more economical and because enough people purchasing it makes the product appear fashionable and trendy. Buyers should look for sterling silver products, as they are at least 92.5 percent real silver.
Sterling silver jewelry is alloyed and is plated with other metals to increase its durability; it still needs to be handled with care.  Silver is naturally prone to tarnishing, a discoloration that occurs when the metal reacts with sulphurous fumes in the air. To remove tarnish from sterling silver jewelry it can easily clean by using regularly an anti-tarnish polish. Prevent damage, scratching and discoloration by avoiding contact with any household chemicals and storing it separately in its Ross-Simons presentation box. And also remove your jewelry and safety packing it away before swimming.