The beautiful time of the year is spring and spring weddings are classic. Wedding day is the ultimate celebration of true love and devotion. And brides are the center of the attention throughout the entire day.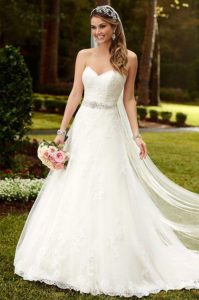 Wedding day is the new beginning of the wonderful time to celebrate the union of two people. To look stunning on wedding day every girl wants it. And the dream of big wedding is a common one, beautiful flower decoration, a lavish reception, and hundreds of guests to come and enjoy your special occasion.
Dress Fabric

Think for your dress fabric as spring is getting warmer, and to drape yourself with heavy and thick fabric is not in fashion. Look for floatier and stylish feminine fabrics such as chiffons and organza, as they look perfect to the feminine feel that the spring blossom should offer. Heavy embellishments don't look great only light laces give smarter look if you are going all out vintage. So, think for light and delicate fabrics rather than heavy and thick fabrics.  If you are not sure which fabric give their best look for this season, seek advice from a bridal store they will help you in selecting the fabric and what will suit your needs.
Color Scheme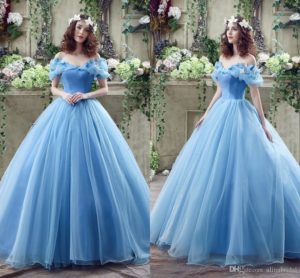 Perfect time for your wedding is spring as spring colors are very on trend right now, which different beautiful shades, from the duck egg and eau de nil shades, to the blush pinks and champagne. The popularity of colored wedding dresses has been rise, subtle blush pink tulle skirted dresses and champagne delicate lace dresses look beautiful this time of year. There are lots of bridal suppliers now offering different color options and even floral designs on bridal shoes as we have seen in popularity of brides wanting to add something a little different to their bridal outfit.
Practicalities
Chance of unpredictable weather possibility is also there as spring is getting warmer. To deal with any unplanned spring showers, it may be an idea to consider bridal parasols.Dress which is great for spring is tea length dress, you do not have to worry about ruining the bottom of your dress if the ground is wet or muddy. It should be warm enough for you not to feel cold and gives you a great opportunity to show off a pair of beautiful colored shoes as per the current trend.
Timescales
If you are having your wedding in spring then spring is very much wedding show season, so why not attend one and give yourself a maximum choice. Brides think that 12 months are prior to the wedding is too soon to select the wedding dress, but at least it takes 6 months to have address made, and sometimes it takes longer to get your dress ready. Brides should have their measurements taken 9 months prior to their wedding and get their dress on order and then it allows enough time for fittings and alterations as needed.