To choose good options for your career is really difficult. And career actually is individual journey through learning, work and other aspects of life. To make your career in fashion designing one should know about what fashion is.
Fashion designers observe trends and sketch the initial clothing or accessory design. They supervise the development of new clothing lines and work on the design of clothing and fashion ranges. They usually specialize in one area of design, such as sportswear, children's wear, footwear or accessories. They appear in trade shows or visit manufactures to select fabrics and trims. Depending on their level of responsibility and the company they work for, designers may work to their own brief or be given a brief to work towards, with specifications relating to color, fabric and budget. Designers conduct fitting and alterations on prototypes of their designs, and the end product is then marketed to clothing retailers.It normally takes the time period of 18 -24 months to design and produce a new clothing line.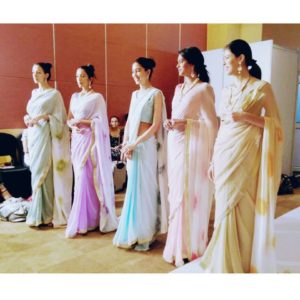 The typical main areas of work for fashion designer are high street fashion designer where majority of designers work and where garments are mass manufactured. Buying patterns, seasonal trends and celebrity catwalk influences play a main role in this design process. It is a profitable area and highly media led. Established designers create ready to wear collections also known as Pret wear and are relatively produced in small numbers. Haute couture requires a large amount of time spent on the production of one-off garments for the catwalk, which are often not practical to wear.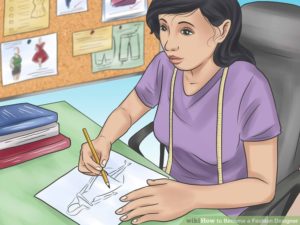 Most popular career positions in the field of fashion design. Fashion designers involved from concept to finish in the development and production of clothing lines. While few designers are able to work their way up in the industry through on the job experience, these days bachelor's degree is typically the minimum requirement for this position. Designer must have in-depth knowledge of fashion design concepts, sewing, and apparel designs. Most designers are specialists. They may specialize in women's apparel, children's clothing, or men's wear. Assistant designers help fashion designers with every aspect of development and production of clothing lines. Typical duties include developing sketching for designers to work from preparing presenting materials for shows and clothing demos, sourcing fabric, etc. bachelor's degree is not required for assistant post. They often work their way up to become designers. Pattern makers create patterns and specifications for how each component of a garment should be manufactured and put together. Pattern makers often use computer software, CAD and 3D imaging to create patterns and develop specifications. Pattern making skills can be learned on the job, by earning a particular degree.
Fashion designers often gain their initial experience in the fashion industry through internships or by working as assistant designer. Internship provides aspiring fashion designers an opportunity to experience the design process, building their knowledge of textiles and colors and how the industry works.