Many women are caught into the charm of blushes from pretty early age (many of us have a childhood picture with clownish cheeks), as we think that shiny powders with a puff on each cheek make you look glamourous. These reasons charm and fascinate young girls so they start sneaking their mom's pink blush powders and getting ready for the play party. But as you grow up you know that one wrong stoke can spoil your look, so you have to be very careful and follow some rules because if done right, blushes can make you look healthy if you don't feel. Blushes are usually the most underrated products in our makeup range, whereas the truth is that they are trickiest of all makeup stuff and you have to be extra picky about them. See the guide below to help you see what you have been doing wrong when applying blush;
Study your face shape:
Face shapes vary from person to person and so it is important that before applying makeup you know about your face shape and make the right decision. According to makeup artist one of the most common blunders that people make when applying blush is ignoring the shape. You can learn about your face types from numerous makeup tutorials and from growing freelance makeup artists. For ladies with oval shaped face, blush should be applied in upward strokes on the apple of cheeks, for those with round shape, apply blush on cheekbones so that it gives a look of natural contour. You should apply blush under cheekbones when you have a heart-shaped face and in case of square-shaped face apply on the apple of cheeks.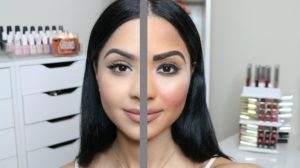 Pick the right shade:
Don't ever pick up a blush shade just because you like it or the shade looks good to your eyes. You should know your skin tone and complexion. There is proper guide which tells you which blush shade goes with which complexion. There are a lot of things that can go wrong, suppose you have a skin with acne, so you should never go for shimmery stuff to apply on your face because that will make the scars more prominent. Therefore, people with fair skin color should opt for cool, neutral and light peachy hues. Those who have a medium complexion should choose rosy pink and deeper shades of pink. Whereas, a darker complexion should be treated with deep shades such as rosy, deep peach or purple-reddish shades.
Blending:
Have you seen people with makeup marking edges on your skin pointing to the points where it starts and end? It looks really weird as if it has been drawn on your face. To avoid such issues, you should really be careful with blending. It is recommended to use two brushes at a time one to put on blush and other to blend it to get a flawless look.
Don't forget to prime:
Powder blush on oily skin usually comes off in very short time and you might end up applying it various times a day. You should first apply base before applying blush to get a long lasting look.
Follow the above hacks and make sure your blush strokes are flawless.