One of the famous saying by Gianni Versace: The key is being yourself. Don't be into trends. Don't make fashion own you, but you decide what you are, what you want to express by the way you dress and the way you.
Who doesn't want to look good? Or who doesn't want an impressive personality? Everyone wants it and your personality is what pulls your whole look together. It's your personality which tells your taste of style and fashion and if you ignore your personality and buy only clothes for yourself just because they are latest and trendy then you will lose your identity and look.
After whole day long, you are done with your work when you are going to your bed naturally you will look for relaxation and comfort. But to get into most shabby pair shorts and camisoles are not always a perfect idea to wear. In fact it can be a serious turn off point for your partner too. You just need to make sure that not only you find coziness but also can bring out the comfort factor from your within too.
When you are going to buy some night wear for yourself try to find something which looks amazing on you and for that you need to know what night suit look best on you. In that case choosing the right lingerie depends on how well you know your body type and which night suit wear will look perfect on your body type.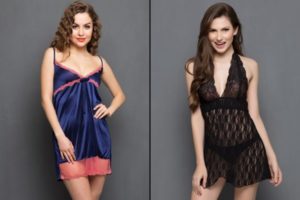 There is a wide variety of night wear with exclusive styles. With so many styles from which to choose, it is nearly impossible to imagine a time before specialized nightwear.
If you have an athletic frame you need to know how off the tones back, shoulders and arms you have got. Worried how your masculine legs will look like? Hide them with an attractive feminine pajama. If you have beautifullytoned legs go for shorts. Your curves are not meant to be hidden but to be flaunted. Steer clear of the sleep wears that hides them make you look more broad and flabby.  Go for perfect looking camisole and shorts or negligee. Your body will look best in any color. Bring out the hottest side of yours. The main trick to hide your flaws better go for strappy camisoles or night gown than will show of your slender shoulders. The night wear which you are choosing should be loose from your hips that will make you look stunner and perfect.
There are smaller stores which often offer a better choice to choose because they will be able to give you the full range of their products that you probably won't at larger online stores. Buying great night garments is very easy via internet because it means you need to go anywhere and leave your home to find something incredible for yourself.