To look smart and stylish on formal events one should know the clothing scenario. Understanding dress code terminology is the key to meeting the demands of guests or hosts. Prepared yourselfbefore hosting, attending, or accompanying someone to an event is the key to success.
To know first rule in dressing for an event is to understand the invitation. Regulate the importance of suitable dress through the invitation itself. Invitations or announcements are presented in a variety of ways. Through formal announcements on paper, casual invitations on paper, accompanying another as a "plus one' and the list goes on.
Dressing for formal events makes the decision making process easier the more casual events. Because the option of garment type have been decided at formal events. Dress codes are always tricky things. They involve myriad rules and regulations and countless 'do's and 'don'ts,' and in certain situations, these laws are pretty much set in store. While 'formal' is perhaps an easier classification to understand than vague directions to wear semi-formal attire or, even more confusing, clothes that are 'smart-casual', it is still not always an especially clearly defined category. Decide and make sure what you are dealing with, you have to check out the things with the party organizers.
Dress code black tie is crystal clear for men or wear tuxedo. And for women it is little more complicated to decide, who can technically wear anything from a long dress to a formal cocktail dress. The one of the best way to figure out what to wear is to dress according to what you expect the host to wear. If you are attending high-end wedding then wear a gown and on the other hand if you are going to a work function that calls for black tie then it is more suitable to wear a little black dress with statement jewelry.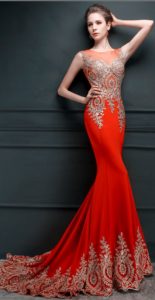 The dress codes in which options are given to men either wear a tuxedo or a dark suit and a tie. Because options given to men for dressing are of more casual manner, the dress code are more open for women too, who can wear anything from a long dress to a cocktail number.

Creative black tie is the dress code which allows you to have fun. For instance, men feel free to wear a black shirt or red bow tie something other than the cookie-cutter penguin suit. Women are similarly encouraged to take their look less seriously.
For cocktail parties dress code for the guys should be a dark suit with a tie. For women, short dresses that are party-ready. When in doubt, wear a little black dress and dress it up with fun jewelry.
Dress code for festive trends to pop up on invitations around the holidays, festive attire is similar to cocktail attire, but with a holiday bent say a sparkly shiny sequin dress or a red satin skirt.