Go wild when it comes to dress you for something really special or for different occasions and festivals. Bandhani sarees are the best option to wear, and who doesn't know about bandhej saree designs, traditional and ethnic sarees worn mostly by women in Rajasthan. Also known as bandhni, the bandhej saree designs are popular in whole world, and are worn every day and on special occasions too.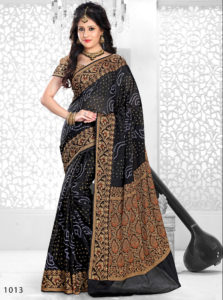 The word bandhani derived from the word 'Bandhan' which means tying up, Bandhani or bandhej is an ancient art of tie and dye practiced mainly in the states of Rajasthan and Gujarat. This is an oldest form of tie and dye which was started 5000 years back and different and unique techniques are involved in dyeing a fabric. Numbers of methods are used to produce variety of exclusive designs and patterns like Leheriya, Mothra, Ekdali and Shikari depending on the manner in which the cloth is tied. Variation is created by mixing two different colors to make the attire look more attractive and eye catching. Bandhani sarees are made in different places of Rajasthan.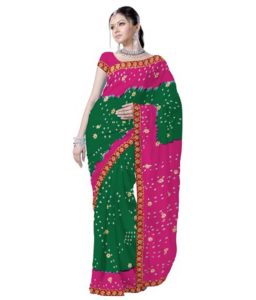 The Rajasthani bandhej sarees are still in fashion. These are sarees of all ages and style and the stuff will make you look so stunning and ravishing in the wear. These are superior garment styles and they are worn both for parties and are also used for casual wears. The saree sure to make you look smart when you wear it the right way along with the perfect stylish accessories. The prints of the sarees are so unique and exceptional. The sarees are available in various shades and designs, this is the reason they go well with all complexions and suits figures of all sorts. These bandhani sarees are considered very auspicious, especially in Rajasthan and Gujarat. From weddings to births, Bandhani finds a sacred association everywhere. Legends have it that wearing Bandhani Sarees invites good luck. In Rajasthan, the varying Bandhani patterns and colors of the turbans worn by menfolk indicate their castes and communities. Bandhani is also used to convey life stages. While red represents marriage, yellow signifies motherhood and green signifies fertility.
Bandhani is a popular handwork in the whole of India. This work is mainly done by the Khatri community of the Kutchh. The cloth is made to have all the tiny dots through the entire body. These dots are known as Bheendi in the local accent. In particular the sarees are made to have bright colors and this is the reason they make you look so special in any kind of wear. In fact, the item makes you look too good in the wear with all the bright and the stunning shades.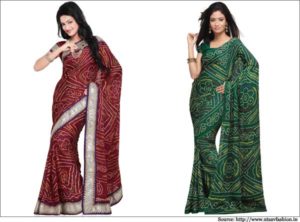 Bandhani is being sold all over India and the demand has increased over the past few decades. Sales go up during the festive and wedding seasons in India.