Everyone here is possessive with their skin types and wants their makeup to stay for longer. Dry skin can be a constant problem and tricky for some people. One who has dry skin knows how difficult applying makeup can be. Makeup helps to cling to the dry areas of the face rather than getting absorbed by the skin, making it look patchy and badly applied. Prime your dry skin to give it moisturize before applying makeup on your face and also make sure the products you are using specifically formulated for dry skin. Applying makeup on your skin and using the right products tend your makeup to glide on effortlessly, so that even from up close, your make will look flawless.
If you want makeup to look good on your dry skin takes a combination of skincare and the right products. You can't do nothing for your skin and then wake up in the morning and throw any kind of foundation on and expect it to look good. Dry skin needs some advance planning.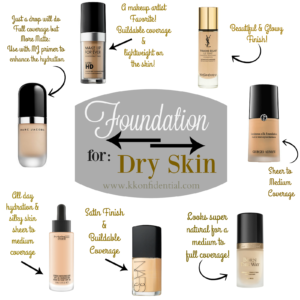 No matter what kind of skin you have before putting on makeup, always wash your face. Washing your face give you ideal piece for your makeup by leaving your skin fresh and ready for anything to apply and it will also wash it away any leftover makeup or products that you may have used.
If you have patchy skin use liquid or cream foundations that contain oil. Dry skin can't hold moisturize, or lip gloss for so long. Exfoliate yours lips once a week with a homemade mixture of sugar and honey. Sugar helps to sloughs off the dead skin, while honey hydrates. Avoid using matte lipstick or long-wearing formula, as they will contribute dryness. Stick to lip gloss or sheer lipstick. This makes your lips look and feel soft and juicier. If you are having dry skin then you do not need to wear powder. After a couple of hours if you feel your makeup begins to flake, chances are a buildup of dead skin is to blame. Add gentle facial exfoliant into your skin care routine and keep your skin hydrated. Exfoliation is important to remove dead skin cells from your face and hydrate the new layers underneath. Remember to moisturize your skin daily. Instead of using lotion, try using thicker creams that specifically caters to dry skin types. Moisturizers or serums contain an ingredient named hyaluronic acid which helps skin to retain moisture. Moisturizer should be applied all over the face, including neck.
You need to be hydrate all day long. If your skin lips tend to be dry, it might help you to examine your diet. Are you taking enough water? A diet which is filled with all the alcohol, caffeine, or sugar could be contributing to your lips feeling parched.