There isn't any need to worry if your favorite pair of jeans seems to be worn out and you have a heavy heart even thinking about giving it away. There are so many ways in which you can make your old jeans new and get all over a new look. After reading this post I'm pretty sure you'll end up with numerous creative ideas for using your old jeans for a completely different or new look, keep reading. Following are best 5 ways that you should definitely know about and will compel you to try on your old jeans before giving it away;
Slashed hem-jeans: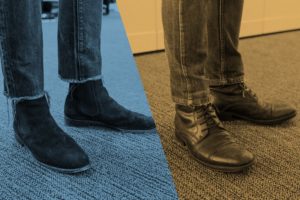 With old jeans at home you don't really need to go shopping and buy some slashed-hem jeans instead you can easily get one at your home that too made out from your old stuff. Do your old jeans look worn out because it's ends are now discolored? Or the cloth has turn quite tethered? Well, you don't have to give it away just yet, grab a scissor and start slicing bottom vertically till a length you think is suitable and do it for all way around. This way your jeans won't look old and you get a free pair of slashed hem-jeans.
Jeans to short:
This never gets old. So many people cut their jeans to shorts, but this should be done with perfection as long can be easily cut to short but sadly we cannot do vice versa therefore, first decide what length shorts you want and be careful the material should be jeans or 100% cotton for khaki pants also stretchable jeans cannot be turned into shorts. Once decided, mark the length of shorts (capris are right till the calf, bermudas end right above knee and classic shorts are 2-3 inches above the knee and best for a beach trip). But before cutting make sure the size is right and cut leaving 1-2 inches in spare so that it doesn't get too short and you can make it fine later if needed.
Baggy to fitted:
If you have an old baggy-jeans with holes in it, this is when a some sewing experience or a friend who knows a little sewing can be handy. Depending on the holes you can easily change you baggy jeans to a new fitted one and change it to a completely new pair in no time at all.
Being artistic:
Do you have an artistic factor in you? it can be useful at such times too. An old pair of faded jeans can be bleached from bottom and drawn on with black or colored markers. You can draw cool patterns and set a new trend with completely new look. Also you can use a bleach pen to draw on your jeans this trick can be used when your jeans get permanent unwanted marks or spots on it.
Jeans to skirts:
How about turning your old faded jeans to a short skirt all together? All you have to do is get some pretty lace from the market. Cut your jeans to a desired length that you would like to have for a skirt and stick or sew your lace to it to get an amazing short denim skirt 😉